We have all faced shortages of one thing or another during the last two years and the worldwide paper shortage has made a significant impact. Businesses and consumers around the world have been shifting to digital documentation in recent years, but paper is still a major necessity for marketing and packaging.
Why is there a paper shortage, and when will it end?
Click the image below for a Today Show video clip.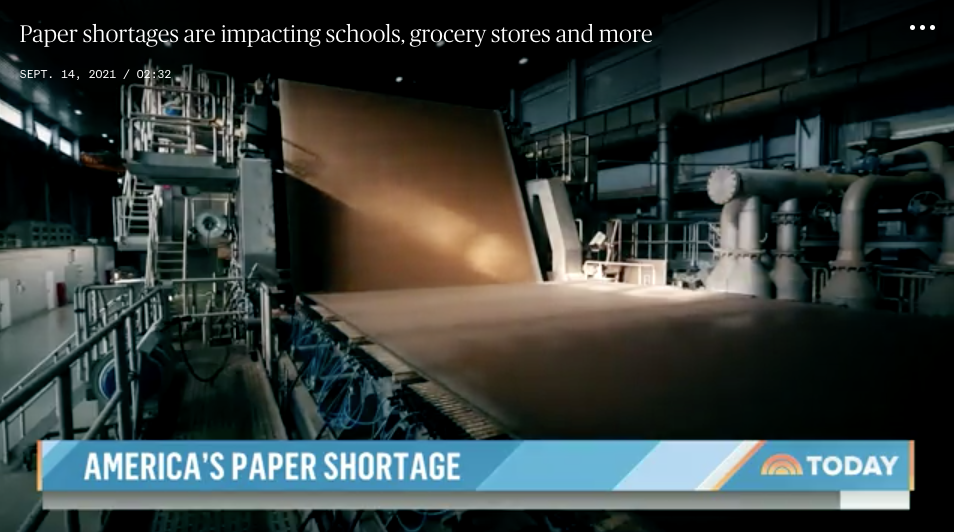 There are many factors in play:
• Paper mills reduced their workforce during the turmoil of 2020.
• Many mills transitioned into making boxes (for example, for Amazon) versus making paper for direct mail pieces.
• Paper types and paper grades were discontinued.
• Transportation took a hit in 2020: Cargo ships have sat for months waiting to unload.
Remember how lumber prices skyrocketed during the pandemic? That was the result of increased demand for single-family homes and the lumber supply being down due to production stalling during the pandemic. The same happened with global paper production.
Ultimately, the issue is a perfect storm of domestic product and foreign supply issues. Right now, a record number of available jobs sit unfilled, which is halting U.S. production in many corners.
How are we dealing with it here at PDC?
We anticipated the coming shortage and have purchased paper in advance, however there has been an unexpected INCREASE IN DEMAND so we may have to make some paper substitutions, for example, we may print on 14pt C2S rather than 16pt C2S in some cases. In recent days we've been made aware of some new, potential shortages prompting us to manage our products proactively, so, you may see some product's options change slightly. This includes limited quantities, changes in paper weight or finish and in some cases price increases.
Rest assured, our paper buyers are working hard every day to make sure we have the materials we need for the print jobs YOU need! If you have a rush project or a large run print job, please contact our customer service for up-to-date inventory checks while planning your project.
For the best results, please:
Start estimating and paper discussions early. Really early.
Be flexible about paper grade/paper type and delivery date.
We will get through this together!


Sources:
https://www.today.com/news/another-paper-shortage-latest-supply-disruptions-mean-rcna2002
https://marketrealist.com/p/why-is-there-a-paper-shortage/
https://blog.stelter.com/2021/11/17/why-is-there-a-paper-shortage-and-what-can-i-do-about-it/